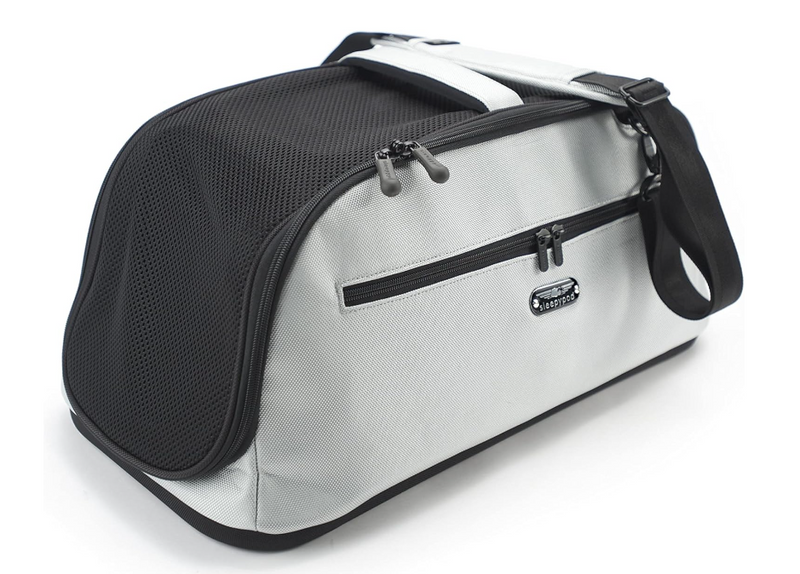 Please check dimensions with your airline.
First Class Legroom on Every Flight!
Redefining in-cabin pet travel
The Sleepypod Air offers an innovative solution to the many conflicting airline size restrictions put on pet carriers by providing size versatility through flexibility. Sleepypod Air's design also keeps with our strict safety standards and high quality material and color selection.
Compresses from 22 inches in length to 19 or 16 inches in length

Seatbelt straps on both sides allow Sleepypod Air to be safely secured in a car seat

Folds flat for easy storage
Meets all Airline & TSA Requirements
Sleepypod Air's unique design allows it to contract in size to fit in the space below most airline seats during the restricted times of takeoff and landing.
Once the plane is in the air, the Sleepypod Air can be expanded to allow a pet the largest possible space below an airline seat.
Ride Along
We understand that car safety is a must when out driving with your pet. Sleepypod Air includes straps on both sides to secure a car seat belt in place around Sleepypod Air. This positioning keeps the carrier in the seat in the event of an accident.
Features
- Trolley pocket for travel.
- Large zipper pockets on two sides.
- Luggage-grade, ballistic nylon.
- Tear resistant mesh.
- For dogs up to 15 lbs.
- For cats up to 18 lbs.